Review of LiP Typhoons by angler Duane Christie
Early 2014 I found myself in serious need of a new pair of high quality polarized sunglasses for fishing. I had just gone through my second pair of shades from a very popular brand in as many years. The problem was that the polarized coating would just peel off. These were US$220 shades, so you'd expect a little more durability, but as soon as the one-year warranty had expired, the coating would start to flake rendering the shades useless!
After some research I found that other competing brands had the same issue and I was dreading spending another US$200 on a pair of shades that would only last a season or two. Then I came across the Lip Typhoons. Brand new on the market back then, they are the product of many years of sunglass design experience, meticulous attention to detail, and an insatiable love for windsurfing.
The Lip Typhoons were designed specifically for wind surfers and kite surfers. The Typhoons are fitted with de-centered injected polycarbonate (PC) polarized lenses by ZEISS, featuring a hydrophobic and oleophobic coating, high impact resistance, superior scratch resistance and elimination of glare for improved vision on the water.
Basically what all that means is that the polarization is injected into the lens, so there will be no peeling of the polarization. The hydrophobic and oleophobic coatings WORK! Water just runs off the lenses and there are no water stains left on the lenses after being splashed. In my four years of using these glasses it has been so easy to clean them on the water, you just dip them in the water and shake off the water. As easy as that, no wiping required. Obviously this is not as simple on the ocean as it is when fishing fresh water systems, which is what I mostly do.
I do have a bad habit of not always storing my glasses correctly, so scratches are inevitable. However, for the amount of times I have not covered my glasses, the scratching has been absolutely minimal. This is a true testament to their scratch resistance. Very robust and durable lenses like these are a real asset to any angler.
On the water they perform excellently. In every comparison I have made with other brands the Typhoons came up trumps each time in both vision into the water and the amount of glare that these lenses cut. I have yet to try other lenses that could rival these on the water, and I have tried most of the popular brands.
The frames are absolutely in a class of their own. The amount of thought and attention to detail that has gone into these frames is unparalleled. Remembering that these shades were designed for watersports, and specifically for wind and kite surfing, angling applications benefit a lot from these designs.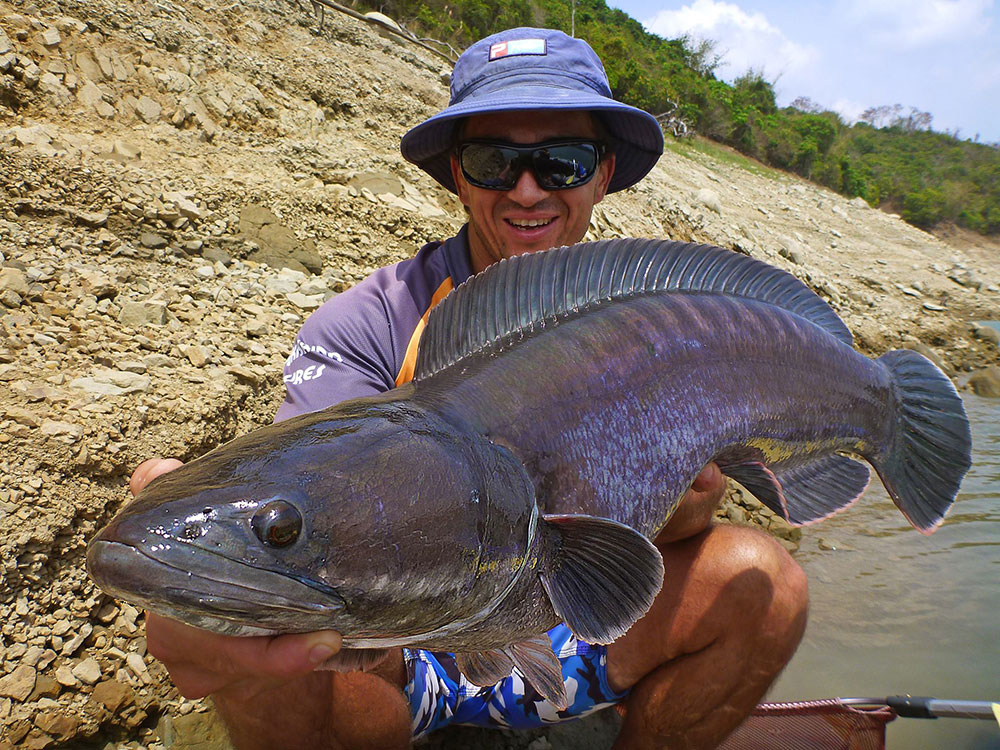 The frames were designed with a dual vortex venting system which helps prevent fogging and heating. Basically there are small vents at the top and bottom of the lenses which allow for airflow around the lens reducing fogging and keeping you a little cooler. The frames are also light-weight and made of a very durable, flexible and virtually indestructible Swiss plastic.
Around the edges of the frames at the top and bottom, the frames have rubber inserts that act as a kind of shock absorber, but also seem to help keep water from splashing into the glasses from both the top and bottom. The same rubber is used on the ends of the arms that go around the ears. Here is the only thing that seems to not be able to withstand the test of time as they do start to perish and break. This is to be expected from rubber parts, especially here in Taiwan where I live. The climate is very hot and humid for most of the year, and that, along with sweat and sunscreen, will most definitely break down the rubber parts that experience the most contact and wear. This can be overcome a lot more affordably than other brands as you can purchase replacement frames at a fraction of the cost (which is exactly what I have done) instead of having to buy a brand new set of shades. Changing out the lens is a very simple process and requires no special tools.
All in all, these are great value watersports sunglasses, and although they were designed for wind and kite surfing, I think they are excellent fishing sunglasses for all the reasons mentioned above. I would not hesitate to recommend that any angler looking for a high quality, durable and effective pair of fishing sunglasses, seriously consider the Lip Typhoons. Their after sales service is the best you are going to get from any sunglasses company, so you can purchase a pair of Typhoons knowing that if anything goes wrong with them these guys will do everything they can to accommodate your problem.